Training
Here are upcoming options to assist in reaching your safety training goals. Further down the list find some ongoing resources.
ON-DEMAND SAFETY TRAINING VIDEOS–Ending in November 2020
The portal to a selection of short videos, viewable on any device, are available at no charge to AGC members and their subcontractors.
Click on the logo below to access this member benefit!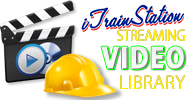 Want to preview the Video Library first? Click here to preview the construction video catalog.
10-HOUR OSHA TRAINING
Dates: On Demand
Location: Online
Available on demand as you need it with ClickSafety. To receive AGC Chapter discount of 10% you must order through this link.
ClickSafety
Safety training classes are available with ClickSafety. AGC Nebraska Building Chapter members receive a 10% discount, click here for more information.